F.E.O. Medical, Inc. is a biomedical equipment company focused on quality medical equipment solutions. We are a supplier of medical products and accessories to healthcare providers including ASCs, hospitals, physician's clinics, and dental offices.
Medical Device Sales
F.E.O. Medical, Inc. offers both new and preowned medical equipment, including but not limited to, FDA-approved Patient Monitors, ECG/EKG systems, AED/Defibrillators, Electrosurgical Bovie Units, Blanket Warmers, Infusion IV Pumps, Light Sources, and Video Laryngoscopes. Below is a partial list of the manufacturers we offer.
Ambu
Baxter
Biolight
Bovie
Conmed   
Criticare Systems
GE Healthcare
Luxtec
Mindray / Datascope 
Mortara
Olympus
Physio-Control
Steris-Amsco
Welch Allyn
Zoll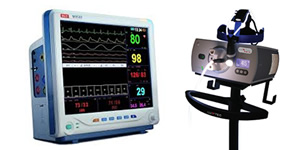 Medical Device Accessory Sales
F.E.O. Medical, Inc. is dedicated to satisfying business relationships through our great prices on accessories. Below is a partial list of accessories we offer.

Pulse Oximetry (SpO2)
Single Piece SpO2 Sensors
Short SpO2 Sensors
SpO2 Adapter Cables
Disposable Sensors
SpO2 Accessories
NIBP (Non Invasive Blood Pressure)
NIBP Cuffs
NIBP Hoses
NIBP Connectors
EKG Cables (3 or 5 Lead)
Single Piece EKG Cables
EKG Trunk Cables
EKG Leads
Disposable EKG Leads
Disposable Single Piece Cables
Temperature
Temperature Sensors
Disposable Temp Adapters
EKG Cables (10 or 12 Leads)
EKG Cables
EKG Trunk Cables
EKG Leadwires
EKG Accessories

Batteries
Lead Acid Batteries (SLA)
Lithium Ion Batteries (Li-ion)
Nickel-Metal Hydride (NiMH)

    
Contact Ben for more information
This email address is being protected from spambots. You need JavaScript enabled to view it.

or call 901-334-8598.